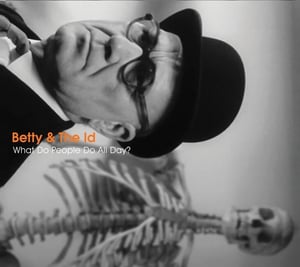 £

7.00 - On Sale
What Do People Do All Day? is the second album from Betty & The Id.
The album was recorded throughout 2011 at Highbury studio in Kings Heath and marks an expansion in their sound from the garage punk template of the first album. Traditional song structures have been expanded and mangled and the sound now incorporates synths, brass and tape effects as well as improvised passages.
Credits:
Antony Cook – Drums
Jenny Kiely – Backing Vocals
Simon Maragh – Keyboards/Backing Vocals
Allan R Murphy - Bass Guitar/Guitar/Drums/Backing Vocal/Keyboards
Jim Smith – Guitar/Lead Vocals/Backing Vocals/Keyboards
Guests:
Hannah Baines – Trumpet
Recorded and Produced by Rob Peters at Highbury Studio.